Honors
History Honors
Like solving mysteries? Independent-minded? Craving intellectual connection with your favorite History professors-- and a smart, selective cohort of fellow majors?

Engage in a 3-semester program focused on research, culminating in a one-on-one yearlong quest with credit that answers your most pressing research questions about the past. Satisfy your insatiable historical curiosity and GRADUATE WITH HONORS!

See applications instructions below, and then apply here. For more information about the application, see Honors Application Handout.

Information Session on the History Honors Program: Thursday, September 21st at 5:00 in GAR 1.102. Details here.
Learn More
Welcome from the Honors Director
Undergraduate research is at the heart of our Department's unique three-semester Honors Program. Other disciplines in the Liberal Arts offer Honors study for seniors only. Our students begin a year earlier. As juniors they take a class reserved just for them: the Honors Historiography Seminar (HIS 347L) taught by the Honors Director annually. Students learn experientially. They visit treasured UT archives: the Harry Ransom Center and the Briscoe, exploring with curators documents on display selected to support their research interests. Successful Honors graduates return to share their theses and recount tales of research in archives and abroad. Invited History professors teach master classes on how they researched and wrote their recent articles and books.Successful junior Honors students depart the Seminar with a thesis topic, supported by their analysis of their field's historiography and a prospectus, a road map for their senior year of research and writing with a carefully chosen History faculty mentor. This History professor oversees and mentors their advisee's senior year of research and writing. By December, each Honors student must submit at least one chapter of their 50 to 70 page thesis. By March, they should draft the project entire in preparation for final revisions.In April of their senior year, Honors students present their research arguments and conclusions at the annual Honors Research Symposium during Undergraduate Research Week at UT. All thesis projects are defended and submitted by May. At graduation, Honors graduates receive special cords and framed certificates. They march at the head of the line of History majors at the departmental graduation ceremony.Beyond UT, our graduates pursue further educational goals in law school, public policy, education, political science, geospatial intelligence, History and more. They find employment at the Texas State Legislature as researchers and at Amazon as software developers. In the midst of a global pandemic, the City of Austin hired one of our graduates as an analyst in the Planning and Budget Office. All Honors graduates research, think, write, and argue their cases in life more effectively because they honed these critical skills in the History Honors Program at UT.
- Dr. Neil Kamil, Director, History Honors Program
Learn More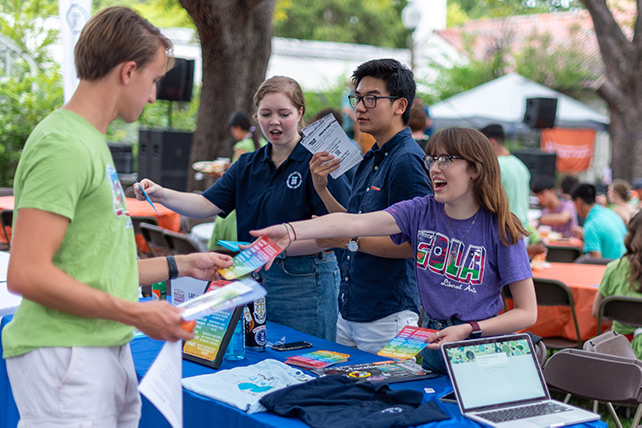 Application and Program Information
Anna Roberts, Class of 2020
Honors Thesis: "Devil's Grasshoppers": Dancing-Masters, Leisure, and Social Mobility in Eighteenth-Century London.
"The history honors program has without a doubt been then most impactful part of my college career. It helped teach me what producing a historical work actually means, and then, most importantly, made me actually do it. It was researching my thesis that I realized I wanted to go to graduate school in history instead of law, and it was the experience and skills (and the writing sample!) I gained through the program that helped me get into the PhD programs I did (Hopkins, Cornell, Princeton, and Indiana). I can't imagine having gained these skills any other way at an undergraduate level. To anyone with an interest in figuring out what it really means to do history, I can't recommend this program enough."

Read and download more testimonials.
Learn More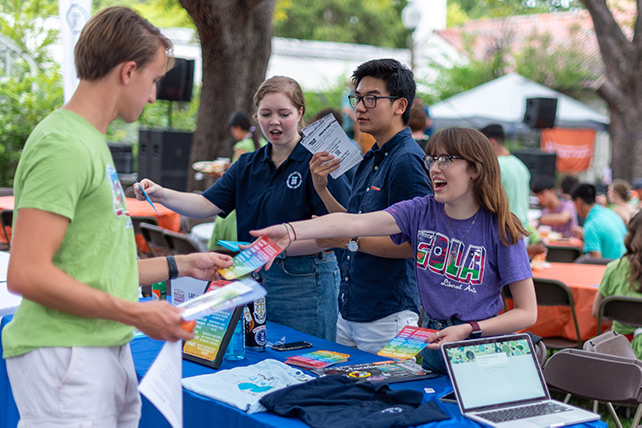 History Honors alumni Cristian Quiroga and Rachel Davies visit Honors Seminar and offer advice to current cohort on research and writing
Cristian and Rachel, both Class of '22, offered advice on thesis writing, navigating research in the archives, and much more. Watch a recording of Cristian's discussion here, and of Rachel's conversation here.
Read a summary of key takeaways from their discussions here.