Advising
Fall 2023
The open add/drop period for Fall 2023 runs though August 24. You should make every effort to finalize your courses by August 24.

Appointments are open for history majors. If your advising question does not relate to your Fall 2023 schedule, we ask that you wait to schedule your appointment on September 7 or later.

If you are not a history major and have questions about adding a history class for Fall 2023, please email us at history.advising@austin.utexas.edu. If a class you want is waitlisted, your first step should be to get on the waitlist, before emailing the advisors or taking any other step.
Learn More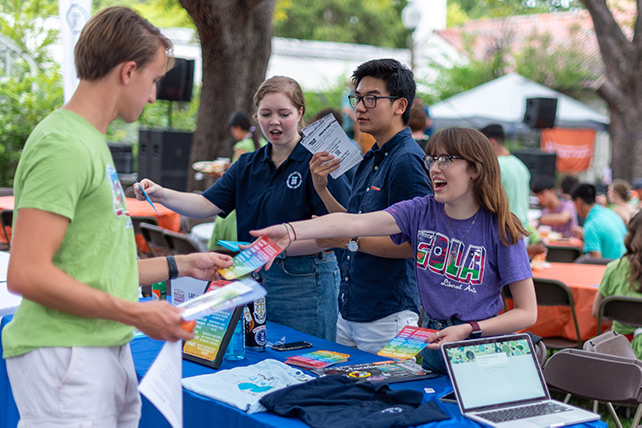 Susan C. Somers
Academic Advising Coordinator
Susan's time with the Department of History began in 2005 when she arrived in Austin to study early modern European history in graduate school. She began her career as an academic advisor for the Department in 2010. Over the years, she's advised in History, Classics, and Philosophy, and in 2018 she returned home to Garrison Hall to lead the History advising team. Susan earned her BA in History and Philosophy from Washington & Lee University and her MA in History from The University of Texas at Austin. She is mom to two daughters who keep her busy with dance, Girl Scouts, and orchestra. Her husband teaches Economics at ACC. She loves Star Wars, figure skating, and urban transit.
Aina Ongcheap
Associate Academic Advisor
Aina joined UT Austin in Fall 2018 to study the History of Science as an undergraduate student. That semester, she became the student worker for the history advising office, where she worked for the entirety of her undergraduate years. She is originally from San Antonio, Texas. After graduating from UT Austin with her BA in History in Spring 2022, she began work as an Associate Advisor for the History Advising Office. She enjoys taking care of her pet tortoise, Snappy, watching and doing glassblowing, and doing ceramics.
Phone:
512-471-7670
We answer the phone during business hours. If we are in appointments, on the phone, or working remotely, your call may go to voicemail. While we are checking voicemails, we often do not check our voicemail as frequently as email. We recommend you email us rather than leave a voicemail.