Patton Hall

Patton Hall (RLP)
Edit Subhead Text
Welcome to Patton Hall, home to the College of Liberal Arts.
Building Overview
The Sherri and Robert L. Patton, Jr. Hall (RLP), formerly known as the Liberal Arts Building (CLA), is located off 23rd street and the San Jacinto Circle. The 200,000 square foot building houses 16 Liberal Arts departments, centers and programs. Spaces include faculty and graduate student offices, labs, seminar rooms, classrooms, study spaces, and a student lounge and advising center. Patton Hall's naming honors the couple who transformed the College of Liberal Arts with a $20 million gift. For more information, visit the Patton Challenge, Patton Hall Dedication, building donors, and construction of RLP.

Public Hours
6 am to 10 pm Daily
Badge accessible
10 pm to 11:45 pm Daily

Closed on Holidays
Learn More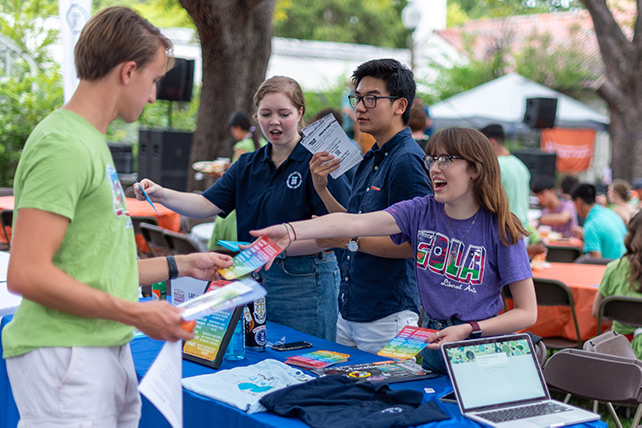 Lost & Found

Found items may be turned into the Classroom Help Desk located at RLP 1.214. To claim a lost item, please visit RLP 1.214 Monday-Friday, 8 am to 3 pm. Unclaimed items may be turned over to the UT Police Department after 1 week.

Comfort Room/Quiet Room Information

The RLP Comfort Room is located on the fourth floor, and is available by for use by students, faculty, and staff on a first-come, first-serve basis. Intended users are nursing mothers to pump breast milk or for individuals with medical conditions requiring a rest period during the day (such as those undergoing chemotherapy or other reasons related to a non-contagious condition). Contact your departmental manager or the RLP building manager for access to the space. A gender-neutral bathroom is next door.

The room is available on a first come, first serve basis. If your need for the room conflicts with someone else, you will need to negotiate with that person about room use. We encourage open communication and flexibility so the room can be fairly utilized.

Click here for more information about UT's Lactation/Quiet Rooms

Event and Meeting Rooms

Liberal Arts faculty and staff are eligiable to reserve rooms in RLP for meetings, conferences, and other events. Most rooms in RLP are equipped with a full media console with projector, speakers, blue ray player, laptop connections, and ceiling-mounted document cameras. Along with the Julius Glickman Conference Center, RLP offers a number of smaller rooms from between 6 and 35 seats. Please see the LAITS Room Reservation page for more information.

Accordion 4

Panel 4. Add body text in this space.

Accordion 5

Panel 5. Add body text in this space.
Martin Dies Student Center

The Martin Dies Student Center is located on the first floor of RLP, and is open to all undergraduate students within the College of Liberal Arts. Student must use their UT identification cards to access the space. If you have are a Liberal Arts major with a valid UT ID and cannot access the control panel located next to the entrance, you may request access by filling out the access request form. Please allow 24-48 hours for your card to activate.

The College of Liberal Arts Student Success (CLASS) Center and the Wagner Workroom can be accessed through the Dies Center. The Wagner Workroom can seat up to 20 people and may be reserved by student groups for meetings and other events. To inquire about the availability of the Wagner Workroom, please send an email to the Office of Student Affairs.

Public Displays for Event Advertisement

Bulletin Boards: Anyone may post signs about an event on any of the public bulletin boards around RLP that are not designated for a department. Signs and fliers should have an expiration date and should be removed after the expiration date. Items may be not taped to any of the glass, wood, or painted walls in the building. Items found posted in these areas will be removed immediately.

Photography and Filming in RLP

Photography and filming is permitted within public spaces of RLP for departmental or course related projects. Camera crews should avoid blocking emergency egress areas. RLP building management can help determine what areas may require special permissions or access. Permission from the principal investigator is required when photographing or filming labs, including incidental shots. The LabSpace program can help you determine the best point of contact for individual lab spaces. For more information regarding UT policies on filming, photography, and permissions, please see UT Communications > Filming at UT.

Accordion 4

Panel 4. Add body text in this space.

Accordion 5

Panel 5. Add body text in this space.